You are here:
Mango by air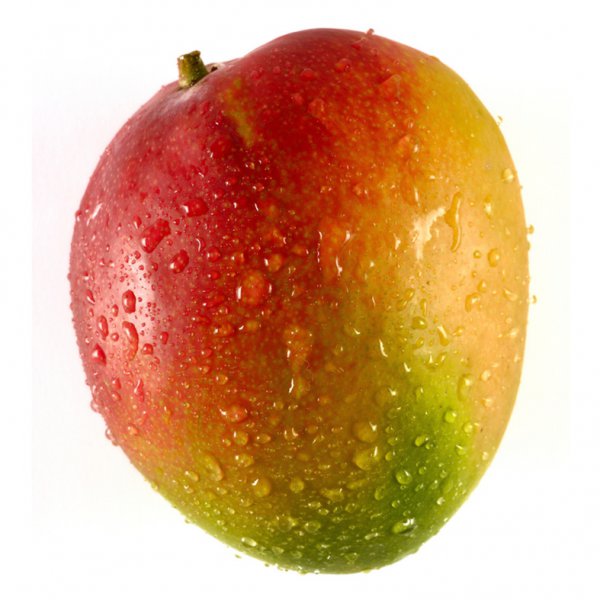 these tasty Mango by airs in
your own packaging?
Would you like to discover what's possible?
Contact us now

Mango by air
Storage
In the shop: min. 10°C – max. 13 °C
Ethylene sensitivity: high
Ethylene productivity: high
At home: keeps for several days in a cool place.
Quality and ripeness
Airplane mangos are harvested when ripe and can be consumed immediately.
Use
Mangos taste fresh and rich with a spicy and exotic nuance. Mangos are delicious to eat as is. They also constitute an exotic ingredient in fruit salads and can be mashed for use in sorbets and ice cream. Mangos also taste great with smoked meat, Parma ham and smoked chicken or as a refreshing side for spicy dishes and curries. Ripe mangos can be mixed with chilli peppers for a delicious salsa. They are also perfect for juices and smoothies combined with orange, watermelon, pineapple, banana and papaya.
Varieties
Airplane mangos are always of the Kent variety. Kent is a round mango with a full body and a thin skin. Not containing any fibres, the flesh is juicy and very sweet. The pit is quite small.
Did you know that...
the mango is loaded with vitamins and improves digestion?
the mango cutter is an ideal tool for easy and quick cutting of the mango?
---
Transport methods
| Air | Sea | Land | |
| --- | --- | --- | --- |
| | | | Burkina Faso |
| | | | Brazil |
| | | | Ivory Coast |
| | | | Gambia |
| | | | Israel |
| | | | Mexico |
| | | | Peru |
| | | | Senegal |
Key
Transport method
not used
Transport method
used
Recipe: chocolate mousse with mango
Ingredients
For the marinated mango:
1 ripe mango, cut in stripes
1 teaspoon tarragon, cut very fine
20g grated coconut
1 tablespoon coconut liquor
For the chocolate mousse:
100g good quality dark chocolate
3eggs separated
Preparation method
Mix all ingredients for the marinated mango and leave to marinate for 10 minutes.
For the chocolate mousse:
Melt the chocolate au bain marie and leave to cool slightly. Stirr in the egg yolks and the beaten egg whites. Leave to cool for 3 hours till set.
Spoon or pipe some chocolate mousse in a nice glass and cover with the marinated mango
Tips:
White chocolate mouse is also very nice.
Use basil or mint instead of tarragon
Recipe: Spicy mango with crayfish
Ingredients
1 ripe mango, cut into cubes
Juice of half a lime
Half a teaspoon of freshly grated ginger
A pinch of fresh red piment, finely cut
2 basil leaves cut small
3 table spoons of olive oil
100g crayfish
75g Rucola
salt
Preparation method
Mix the mango with lime juice, olive oil, ginger, piment, salt and basil
Leave to marinate for 10 minutes
Carefully mix the crayfish and rucola with the mango
Serve in a small salad bowl or on plate