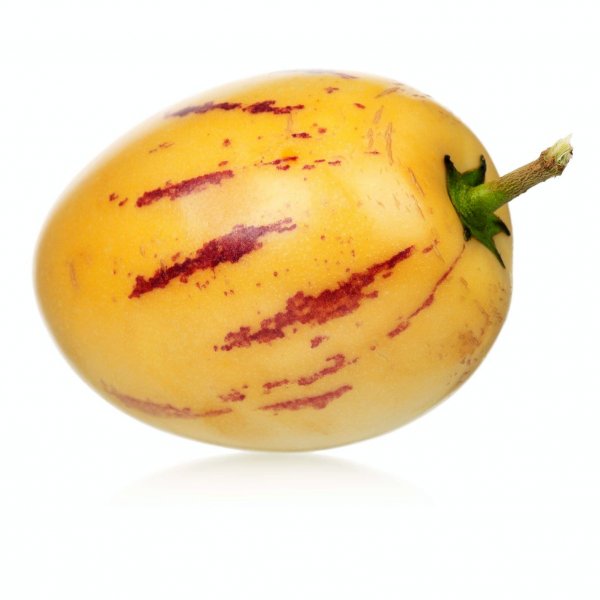 these tasty Pepinos in
your own packaging?
Would you like to discover what's possible?
Contact us now

Pepino

Storage
In the shop: min. 7° C - max. 10° C
Ethylene sensitivity: moderate
Ethylene productivity: moderate
At home: In the fruit compartment of the refrigerator: 3 days to 1 week
Quality and ripeness
A ripe pepino is yellow and feels a bit soft when light pressure is applied.

Use
Pepino tastes of melon and pear but the flesh is more firm and less juicy. Peel the skin off and remove the core with seeds. Consume immediately or sprinkle with lemon juice to prevent discolouration. Combines with both sweet and savoury (meat, fish) dishes.
Varieties
The pepino is a plant from the nightshade family. Cultivated pepino is larger (10-20 cm) than wild ones (7 cm). There are seed containing and seedless varieties.
Availability calendar
| Jan | Feb | Mar | Apr | May | Jun | Jul | Aug | Sep | Oct | Nov | Dec | |
| --- | --- | --- | --- | --- | --- | --- | --- | --- | --- | --- | --- | --- |
| | | | | | | | | | | | | Colombia |
| | | | | | | | | | | | | Ecuador |
Key
Out of season:
not available
Month in season:
available
Promo season:
special offer available
Transport methods
| Air | Sea | Land | |
| --- | --- | --- | --- |
| | | | Colombia |
| | | | Ecuador |
Key
Transport method
not used
Transport method
used
Packaging
personalised packaging available by request