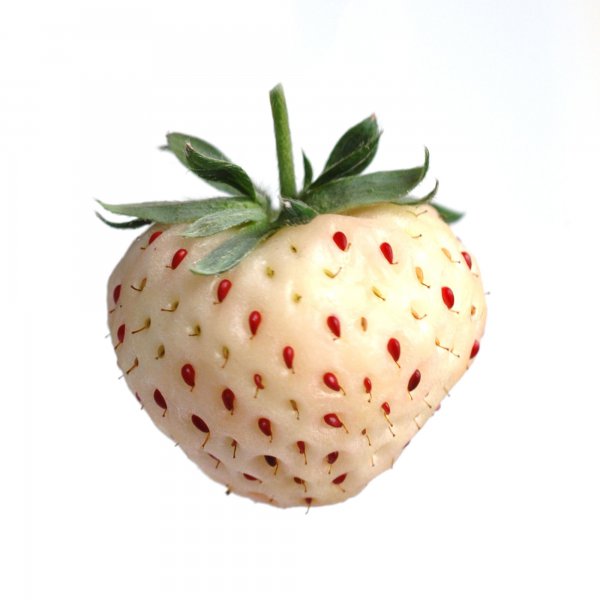 these tasty Pineberries s in
your own packaging?
Would you like to discover what's possible?
Contact us now

Pineberries
The pineberry is not a genetic manipulation of the pineapple and the strawberry but 100% a strawberry. The growth process and cultivation of pineberries is very similar to those of strawberries. The only difference is that a regular strawberry plant is always required for pollination.

Storage
In the shop: min 1°C – max 4°C
Ethylene sensitivity: low
Ethylene productio : low
At home: keep refrigerated
Pineberries are best consumed as quickly as possible after purchasing or harvesting them. Their shelf-life amounts to 1 to 2 days in a cool location, and 3 days in a refrigerator. You can prevent the fruits from bruising by spreading them across a larger surface area. You can also freeze pineberries, but those are only suitable as part of a recipe. Once defrosted, they will have lost part of their shape and colour.
Quality and ripeness
Pineberries are sensitive fruits, bruises can quickly lead to mould. Keep this in mind when buying the fruit.
A pineberry is a juicy, round, white fruit that feels both delicate and firm at the same time.
The sweet taste is a mix between strawberry and pineapple.
The fruit is ripe when the seeds colour red and the pineberry gets its pale pink glow.

Use
Do not wash the pineberries under a flowing tap but use a colander to move them in cold water instead. Ice-cold water helps the pineberries stay nice and firm. Remove the calyx only after rinsing the strawberries. This prevents them from absorbing too much water while being rinsed which would also lead to a watery taste. Carefully damp them with paper towels or a kitchen towel.
Both the taste and appearance of the pineberry are unique! It is perfect for salad garnishing, dessert decoration or to complement a glass of champaign. You are guaranteed to surprise your guests! They are also delicious on their own, with a chocolate fondue and of course in smoothies or milkshakes.
Availability calendar
| Jan | Feb | Mar | Apr | May | Jun | Jul | Aug | Sep | Oct | Nov | Dec | |
| --- | --- | --- | --- | --- | --- | --- | --- | --- | --- | --- | --- | --- |
| | | | | | | | | | | | | Belgium |
Key
Out of season:
not available
Month in season:
available
Promo season:
special offer available
Key
Transport method
not used
Transport method
used
Packaging
personalised packaging available by request
Recipe: pineberry smoothie
Ingredients
200 gr pineberry
1,5 dl nonfat yoghurt
0,5 dl orange juice
sugar (to taste)
ice cubes
Preparation method
Wash the pineberries and remove the caps.
Combine all ingredients in the blender and blend until smooth and creamy.
Serve immediately.
source: iconscoloursoftaste