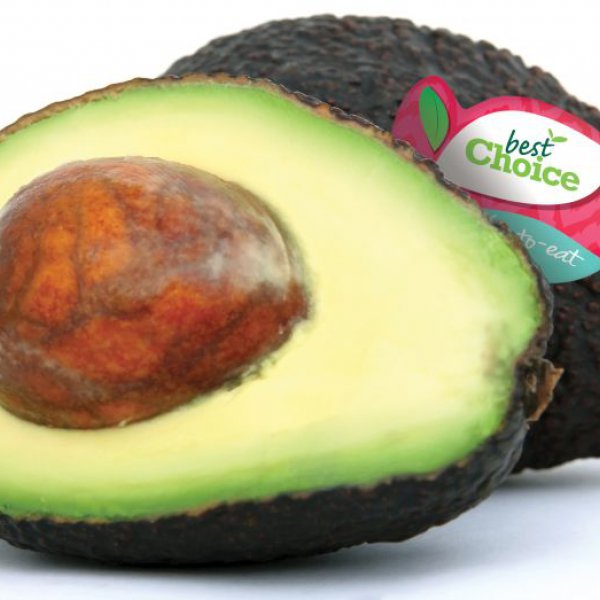 these tasty Avocados in
your own packaging?
Would you like to discover what's possible?
Contact us now

Avocado
Storage
In the shop: min. 5°C – max. 7°C
Ethylene sensitivity: high
Ethylene productivity: high
At home: keep in a cool, dark place
Quality and ripeness
Dark green/brown studded skin.
Pear or egg-shaped or spherical.
The skin of a ripe avocado will be a bit flexible when rubbing it.
When you lightly press a ripe avocado with your fingers, it will give way to your pressure.
Special Fruit ripens avocados in special ripening cells. We have advanced rooms with 'forced air' technology that allow us to speed up or slow down the ripening process, almost at will. An avocado with the RTE label of BestChoice is guaranteed to be ripe for consumption.
Use
Avocado is easy to cut: cut the ripe fruit in half and scoop out the flesh after removing the pit. The skin itself is not edible. Sprinkle some lemon juice onto the flesh to prevent it from turning brown.
The avocado does not have a distinctly sweet taste but does add a subtle touch to a dish with its creamy texture. It is very popular in both sweet and savoury dishes. Especially in the vegetarian kitchen, the avocado plays a prominent role as a substitute for meat due to its high fat concentration. In addition, the avocado is often combined with lime, tomato, shrimp, chicken and a broad range of salads. You can also add avocado to a regular smoothie for a creamier texture and a prolonged sense of saturation. Then there is of course the famous guacamole, where the avocado is the king of the dish.
Did you know that:
the avocado contains a large concentration of nutrients such as potassium, vitamin B, folic acid and omega-3 fatty acids?
an avocado contains more (healthy!) fats than any other product?
the flesh of avocados can be used as a remedy for rough skin or dry hair?
Transport methods
| Air | Sea | Land | |
| --- | --- | --- | --- |
| | | | Chile |
| | | | Colombia |
| | | | Spain |
| | | | Israel |
| | | | Kenya |
| | | | Morocco |
| | | | Mexico |
| | | | Peru |
| | | | South Africa |
Key
Transport method
not used
Transport method
used
Recipe: avocado chocolate mousse
Ingredients
2 ripe avocado's
1/2 cup cacao powder unsweetened
1/2 cup cocosblossom sugar or agave sirop or (brown)sugar
1/2 cup unsweetened almond or soy milk or water
1 tbsp vanilla sugar
Preparation method
cut the avocado's in half and scoop uit the flesh. Put in a blender or kitchen robot.
add all other ingredients and mix till smooth.
spoon or pipe in glasses and chill in the fridge till ready to eat.
source: keukenrevolutie
Recipe: guacamole
Ingredients
1 ready to eat avocado BestChoice
juice of half a lime
1 finely chopped green chilipepper
1 peeled tomato in small pieces
1 chopped garlic glove
½ table spoon olive oil
pepper, salt
Preparation method
Cut the avocado in half, remove the pit and spoon out the flesh. Mix with all other ingredients and mash to a paste. Add pepper and salt to taste. Fresh coriander is a nice addition.
Serve with tortilla chips.
Guacamole is best not made too long on forehand since the avocado will discolour.
Recipe: Pom Pom Guacamole
Ingredients
2 avocados
Juice and zest of 1 lime
1 tsp chilli flakes
1 garlic clove
grated 1 spring onion, finely chopped
4 tbsp fresh coriander
finely chopped
1 tbsp pickled ginger
chopped 100g pomegranate seeds
Sea salt and pepper
To garnish: avocado rose
To serve: tortilla chips
Preparation method
1. Mash the avocado with the rest of the ingredients. The mixture can be as chunky or smooth as you like. Season and add chilli flakes to taste.
2. Serve in your favourite bowl, garnish with fresh coriander, pomegranate seeds and an avocado ros
Recipe: toast avocado - strawberry
Ingredients
1 ready to eat avocado
100g (Calinda) strawberries
2 slices toasted bread
Preparation method
Slice the avocado and strawberries. Put on toast, sprinkle with fresh pepper.