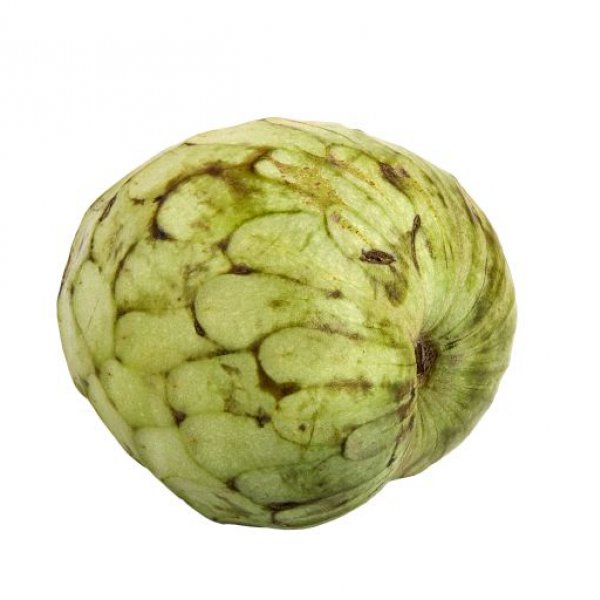 these tasty Cherimoya s in
your own packaging?
Would you like to discover what's possible?
Contact us now
Cherimoya

Storage
In the shop: min. 8°C – max 12°C, sensitive to low temperatures.

Ethylene sensitivity: high

Ethylene productivity: high

At home: ripe fruit will keep for a few days in a cool place,
unripe fruit is recommended to keep at room temperature for further ripening. (max. 3 days)
Quality and ripeness
Cherimoya has a smooth, green, somewhat leathery skin. Pick the fruit with the least number of brown spots. When ripe, the cherimoya has the texture of a papaya or a ripe pear. The skin is green to light purple. When ripe, the colour changes to green/black.

Use
Cut the fruit lengthwise, remove the seeds and remove the pulp with a knife or spoon. The black seeds inside the pulp and the scaly skin are not edible.
The fruit is meaty and soft with a sweet taste that resembles a combination of banana, strawberry and pineapple. Tip: the flesh is quite sweet. A little lemon juice accentuates the flavour. The cherimoya is delicious to eat by itself and is very suitable for fruit salads or yoghurt. Also tasty as an appetizer with ham.
Transportation
By road from Spain, by air from Chile.
Key
Transport method
not used
Transport method
used
Recipe: cherimoya pudding
Ingredients
5 dl whole milk
65 g sugar
4 T cornstarch
3 cherimoya, peeled and seeded
3 T pistachios, toasted and grounded
Preparation method
Whisk together milk and cornstarch and sugar in a saucepan over med heat and heat until milk thickens and begins to boil, stirring frequently. Remove from heat.
Strain cherimoya through a metal sieve. Take strained cherimoya and add to the pudding. Stir well and place in individual ramekins. Refrigerate until cold. Top with toasted pistachios.