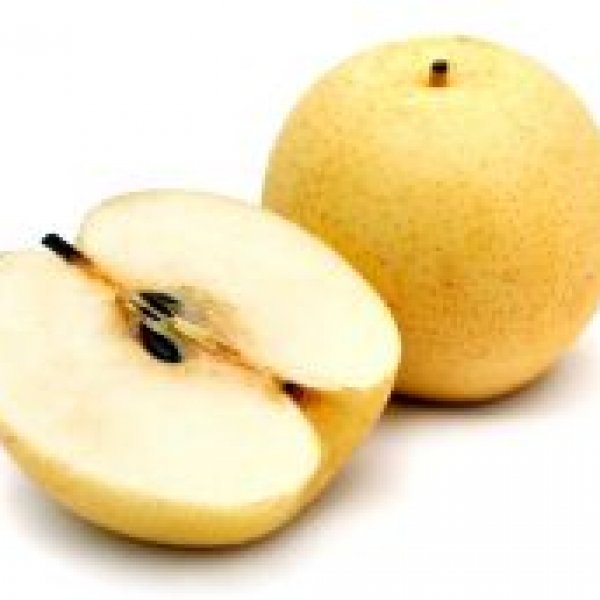 these tasty Nashi pears in
your own packaging?
Would you like to discover what's possible?
Contact us now

Nashi pear
Storage
In the shop: min 0°C – max 2°C

Ethylene sensitivity: moderate

Ethylene productivity: low

At home: Up to 2 weeks in the refrigerator
Quality and ripeness
Ripe Chinese pears are hard like an apple. They are edible upon purchase.
Use
The Chinese Pear, also known as Apple-Pear due to its apple-shape, is usually eaten raw and peeled like an apple. It is used as a sweet addition to many dishes in the Asian cuisine. The fresh taste resembles pear, pineapple and honey with an Asian touch. The fruit has a high water concentration which makes it less suitable for pies or jams.
Varieties
The Nashi variety is round with a yellow-brown skin. The Ya variety is pear-shaped with a more white-brown skin. The Su variety has a greenish skin and its shape is in between that of an apple and a pear.
Availability calendar Nashi Pear
| Jan | Feb | Mar | Apr | May | Jun | Jul | Aug | Sep | Oct | Nov | Dec | |
| --- | --- | --- | --- | --- | --- | --- | --- | --- | --- | --- | --- | --- |
| | | | | | | | | | | | | China |
Key
Out of season:
not available
Month in season:
available
Promo season:
special offer available
Key
Transport method
not used
Transport method
used
Packaging
personalised packaging available by request