You are here:
Asparagus tips green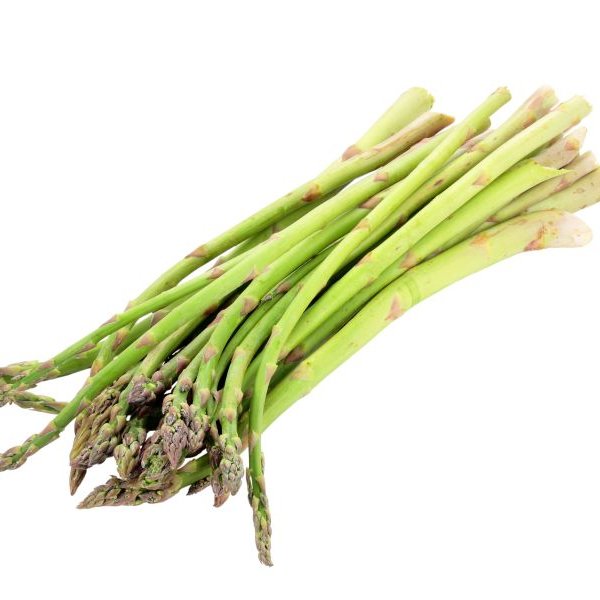 these tasty Asparagus tips greens in
your own packaging?
Would you like to discover what's possible?
Contact us now

Asparagus tips green
Storage
In the shop: min. 0°C – max. 3°C
Ethylene sensitivity: High
Ethylene productivity: low
At home: keep refrigerated, 0-3°C
Asparagus are best consumed as quickly as possible after purchase. It is recommended to keep them in a moist cloth inside the refrigerator. Asparagus will keep for three days up to a week in the fridge and 1 day in a cool place.
Use
Both white and green asparagus tips are baby asparagus which makes them more refined in taste than their fully grown counterparts. The green asparagus tips do not require any pealing, white asparagus tips do.
Green asparagus are great for grilling with some sea salt or to be cut and added to a stir-fry without cooking them first. In addition, asparagus are delicious with fish, meat, chicken or salads.
Asparagus go well with white wine. Risotto with asparagus and white wine is a great combination.
Preparation of asparagus:
Boil, steam or stir fry them with some salt; 3 to 4 minutes.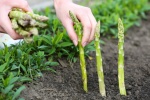 ---
Transport methods
| Air | Sea | Land | |
| --- | --- | --- | --- |
| | | | Spain |
| | | | Mexico |
| | | | Peru |
Key
Transport method
not used
Transport method
used
Packaging
personalised packaging available by request
Recipe: RAVIOLI WITH SAUTEED ASPARAGUS AND WALNUTS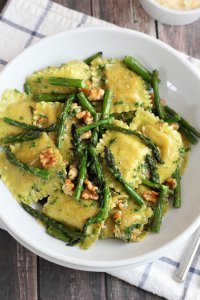 Ingredients
1 - 8 oz package of fresh ravioli
½ pound of asparagus – snap off the tough ends – chop asparagus into thirds or smaller.
1 half lemon
2 tbs butter
¼ cup walnut pieces
2 tbs minced parsley
6 twists of pepper
2 tbs grated parmesan plus some to serve at the table.
Preparation method
Bring a large pot of water to a boil.
While waiting for the water to boil, chop your asparagus into thirds (snap off tough white ends and discard). Mince parsley, squeeze lemon and measure out walnuts and butter.
In a large sauce pan, melt 2 tbs of butter over medium heat until frothy. Add chopped asparagus to the pan, stir slightly to coat asparagus with butter and cover with the pan with a lid. The asparagus should be slightly damp when adding it to the pan. The pan should only be on medium heat so you don't burn the butter or the asparagus. Cook for 4 to 5 minutes - depending on thickness of asparagus.
While asparagus is cooking, add ravioli to boiling water and cook as per the package instructions – my package said 4 minutes. Drain when done and add to a bowl.
When asparagus is done, remove asparagus with a slotted spoon. There will be some browned butter left in the bottom of the pan. Add asparagus to the bowl of ravioli.
Add lemon juice and 6 twists of black pepper to the pan with the remaining browned butter and bring to a boil and stir for 30 seconds. Pour the butter lemon sauce over cooked ravioli and asparagus. There will not be a lot of sauce - you just want enough to lightly coat the ravioli.
Add walnuts, parsley and 2 tbs parmesan cheese - toss gently to combine.
source: greenvalleykitchen