You are here:
Asparagus - white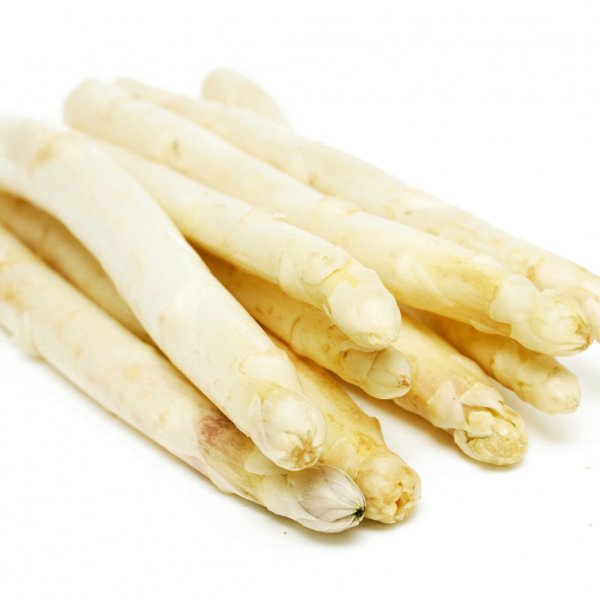 these tasty Asparagus - whites in
your own packaging?
Would you like to discover what's possible?
Contact us now

Asparagus - white
Storage
In the shop: min. 0°C – max. 3°C
Ethylene sensitivity: moderate
Ethylene productivity: low
At home: keep refrigerated, 0-2°C
Quality and ripeness
The asparagus have a straight stem and firm, closed buds.
The bottom should be nice and fresh rather than woody or discoloured.
When rubbing fresh asparagus together, they should "squeak".

Use
A traditional Flemish dish is asparagus with eggs and ham. In addition, asparagus are delicious with fish, meat, chicken or salads. Asparagus go well with white wine.
Preparing asparagus:
White asparagus must be pealed carefully, which is easiest with a potato peeler. Put them on your cutting board and carefully peal them from the bottom to the top, turn them around and repeat until you have peeled the asparagus all around. Boil them with some salt for about 10 minutes, steaming takes 10 to 15 minutes.
---
Transport methods
| Air | Sea | Land | |
| --- | --- | --- | --- |
| | | | Netherlands |
| | | | Peru |
Key
Transport method
not used
Transport method
used
Recipe: Cream of Asparagus Soup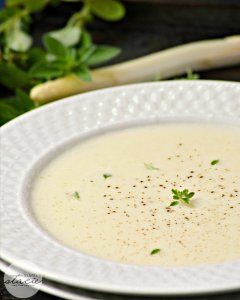 Ingredients
2 bunches of white asparagus, peeled and cut in half
2 cups of vegetable or chicken broth
1/2 of shallot, chopped
2 tbsp butter
1 cup heavy cream or half & half
salt and pepper, to taste
Preparation method
In a small saucepan, bring the asparagus, broth and shallots to a boil. Allow everything to simmer until the asparagus are soft when checked with a fork. Let cool for 10 minutes.
Blend the asparagus with broth until it's smooth and creamy.
Pour it back in the pan and bring it back to a slight simmer. Turn down the heat. Add the cream, making sure it does NOT boil. You only want to heat enough to get the soup hot again. Remove from heat and add the 2 Tbsp butter.
Check for salt and season to your taste. Add fresh ground pepper and decorate with your favorite herbs.
source: simplystacie