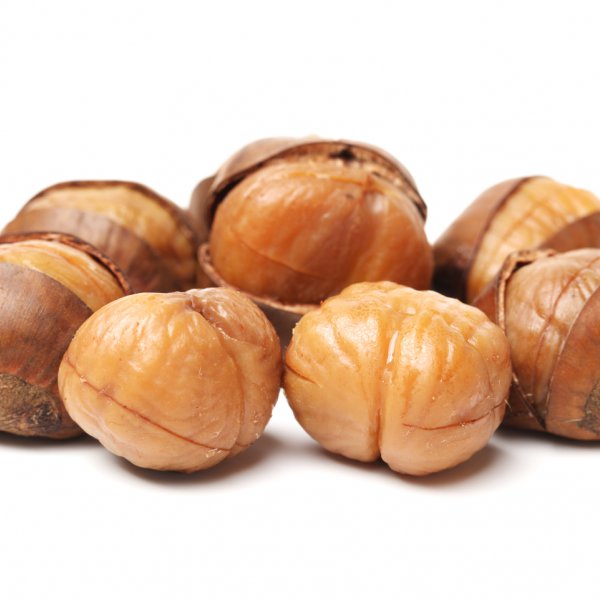 these tasty Chestnuts in
your own packaging?
Would you like to discover what's possible?
Contact us now

Chestnut

Storage
In the store: min 1°C – max 2°C
Ethylene sensitivity: low
Ethylene production: low
At home: min 1°C – max 2°C
Quality and ripeness
The chestnut has a tough, shiny, red-brown skin with a pointy end and black hairs.
When peeled, a chestnut is white in colour.
Not sure about the ripeness? Put the chestnut in a glass of water. If it sinks, it is edible.

Use
Chestnuts can be roasted, boiled and even puréed. In some countries chestnut purée is popular in desserts or as a side. The purée works very well with game dishes. Roasted chestnuts with butter are a true delicacy. You can also just peel the chestnuts and eat it as is. Beneath the brown skin there is a white fruit which can be consumed as is.
Did you know that:
a sweet chestnut tree can be up to 500 years old?
the tree only starts producing chestnuts after the age of 35 to 55?
horse chestnuts and sweet chestnuts can be distinguished by their shape? A sweet chestnut has a tip on top and a horse chestnut is nice and round. Sweet chestnuts are also thinner than their horse counterparts.
Key
Transport method
not used
Transport method
used
Recipe: pasta with chestnuts and mushrooms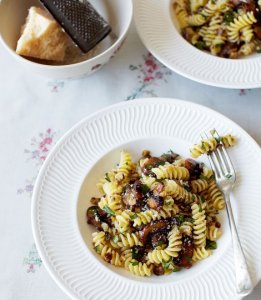 Ingredients
135g peeled and cooked chestnuts
2 garlic cloves
4 tbsp chopped fresh flatleaf parsley
1 tsp lemon juice
125ml extra-virgin olive oil, plus extra for frying
20g vegetarian Parmesan, finely grated, plus extra for serving
Large knob of butter
250g chestnut mushrooms, sliced
350g fusilli pasta
Preparation method
In a mini food processor, whizz the chestnuts, garlic, parsley, lemon juice and some seasoning to a course paste. Slowly add the oil, then stir through the cheese.
Heat a splash of oil and a knob of butter in a frying pan over a medium-high heat. Add the mushrooms and fry for 5 minutes until golden.
Meanwhile, cook the pasta in a pan of boiling water until al dente. Drain and toss with the mushrooms and pesto. Top with Parmesan to serve.
source: deliciousmagazine