You are here:
Sweet potato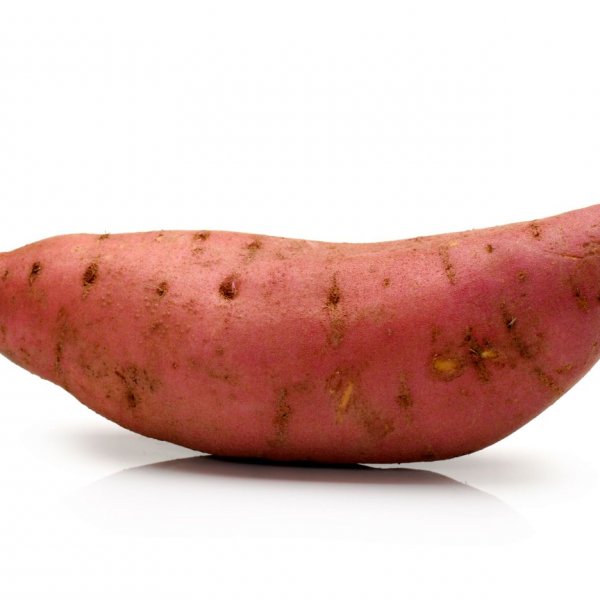 these tasty Sweet potatos in
your own packaging?
Would you like to discover what's possible?
Contact us now

Sweet potato

Storage
In the shop : min. 10°C – 16°C
Ethylene sensitivity: low
Ethylene productivity: low
At home: keep in a cool, dark place
The sweet potato will keep for up to a week in a cool place.
Quality and ripeness
The colour of the skin varies from light orange-brown to dark red-brown.
The red varieties have cream-coloured flesh, the brown ones have orange flesh.

Use
The taste of the sweet potato is slightly sweet and herby. The sweet potato can be used in sweet and savoury dishes. They are usually boiled, fried or deep-fried. But they can also be consumed raw. Depending on your preference, they can be prepared with or without their skin. Sweet potato goes well in various soups, tagines, purées or gratin and grilled on a BBQ.
You can create an original vegetable snack with raw slices of sweet potato with a yoghurt-based dip. Sweet potato goes well in a stew of lamb, onion, tomato and zucchini. Complete the dish with pepper, salt and spring onion!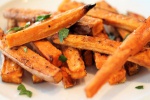 Transport methods
| Air | Sea | Land | |
| --- | --- | --- | --- |
| | | | Spain |
| | | | Portugal |
| | | | United States |
Key
Transport method
not used
Transport method
used
Recipe: BAKED GARLIC PARMESAN POTATO WEDGES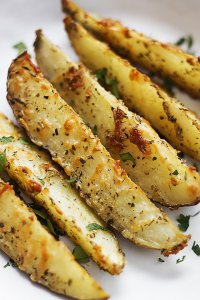 Ingredients
3-4 large sweet potatoes, sliced into wedges
4 tablespoons olive oil
2 teaspoons salt
2 teaspoons garlic powder
2 teaspoons Italian seasoning
½ cup shredded parmesan cheese
optional: fresh parsley (or cilantro), ranch or blue cheese dressing for dipping
Preparation method
Preheat oven to 200°C. Lightly grease a large baking sheet and set aside.
Place potato wedges in a large bowl. Drizzle with olive oil and toss to coat. In a small bowl whisk together salt, garlic powder, and Italian seasoning. Sprinkle potato wedges with the shredded cheese, tossing to coat, then sprinkle with the seasoning mixture.
Place potato wedges on prepared baking sheet in a single layer with skin-sides-down. Bake for 25-35 minutes until potatoes are fork-tender and golden. Sprinkle with freshly chopped parsley and dressing for dipping.
Recipe: sweet potatoes with avocado and lime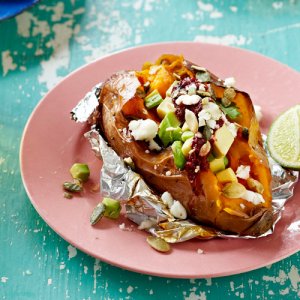 Ingredients
4 sweet potatoes
Olive oil
2 avocado's
1-2 limes
Hand full op pumpkin seeds
150g Spanish manchego cheese
Preparation method
Pre-heat oven to 180°C. drizzle olive oil, salt and pepper on the whole sweet potatoes, fold them into aluminium paper and bake in 1-1.25 hour till soft
When the potatoes are almost done, prepare the filling: chop de avocado's fine and mix with the juice of half a lime. Roast the pumpkin seeds in a dry pan.
Open the foil, cut the potatoes lengthwise open and divide the avocado over the potatoes. Crumble the cheese over the mixture and top with pumpkin seeds.
Serve with lime parts.
(recipe Jamie Oliver)