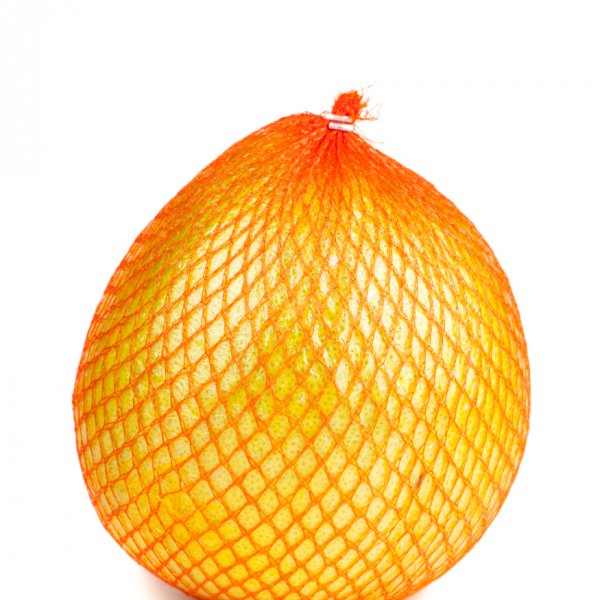 these tasty Pomelos in
your own packaging?
Would you like to discover what's possible?
Contact us now

Pomelo

Storage
In a shop environment: min 8°C - max 12°C
Ethylene-sensitive: Moderate
Ethylene-emitting: Low
In the home: in a cool environment
Keep the pomelo outside the refrigerator in a well-ventilated room. It will dry out at low temperatures, and begin to spoil.
Quality and ripeness
The thick skin of the ripe fruit should be dull and pale green to yellow in colour.
The flesh of the ripe pomelo is white in colour.
The pomelo is round to pear-shaped.
A shiny white skin indicates that the fruit is not ripe.
Use
The pomelo may taste rather tart, but it is sweeter than yellow grapefruit. The fruit's very thick skin is easy to peel. A pomelo can also be pressed, but this may be difficult as most fruit juicers are not big enough for the job. Cut it into small pieces and add it to green salad to create a delicious dish. Add some cherry tomatoes, spring onions and coriander to the salad to create a unique-tasting meal. The fruit can also be grilled. Sprinkle the flesh with sugar and then place it on a hot grill. The pomelo is also delicious as a cocktail combined with shrimps.
Did you know that…
the grapefruit is actually a cross between a pomelo and an orange?
it is thought to be an ideal fruit to help you lose weight, as it contains few calories and lots of nutrients? It also helps to lower blood pressure.
Availability calendar
| Jan | Feb | Mar | Apr | May | Jun | Jul | Aug | Sep | Oct | Nov | Dec | |
| --- | --- | --- | --- | --- | --- | --- | --- | --- | --- | --- | --- | --- |
| | | | | | | | | | | | | China |
Key
Out of season:
not available
Month in season:
available
Promo season:
special offer available
Key
Transport method
not used
Transport method
used
Packaging
personalised packaging available by request
Recipe: pomelo chili cocktail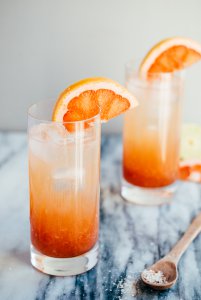 Ingredients
sea salt, kosher salt, or margarita salt to taste
1/8 teaspoon chili powder
3 ounces freshly squeezed pomelo
1 tablespoon freshly squeezed lime juice
1 teaspoon granulated sugar
2 ounces tequila
2 ounces soda water
Preparation method
For a salted rim, mix 1- 2 tablespoons salt with 1/8 teaspoon chili powder, and spread out in a small, shallow dish. Rub the rim of a highball glass with reserved pomelo or grapefruit wedge. Dip one side of the rim in the salt. If not using salted rims, stir a pinch each salt and chili powder into the cocktail.
Carefully fill glass with ice. Add the pomelo juice, lime juice, and sugar. Stir until sugar has dissolved. Pour in tequila and top off with soda. Finish with a pinch of chili salt and garnish with reserved citrus wedge.
source: brooklynsupper